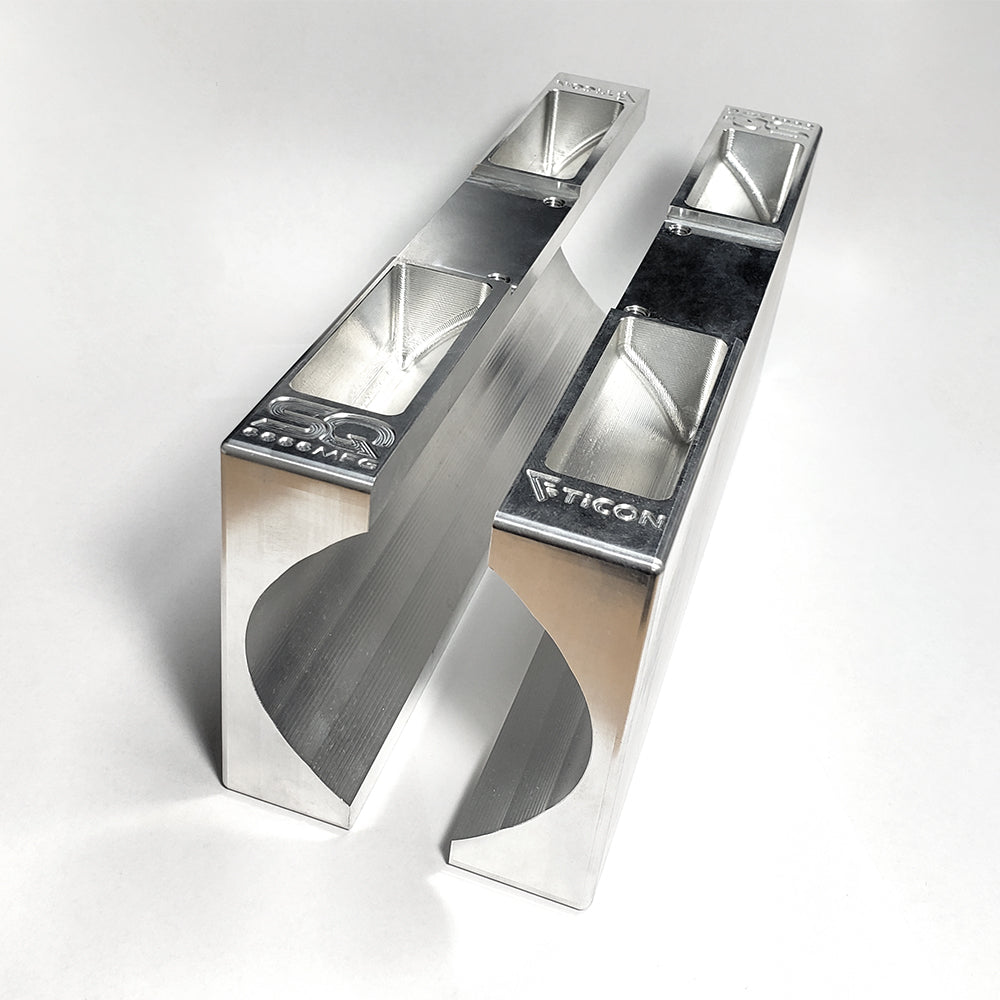 Straight Tube Cutting Jig for 4", 5", 6" OD - Sequence Mfg by Ticon
---
Ticon Industries has teamed up with Sequence Manufacturing to offer an all new cutting jig for straight tubing. This tool came to life after countless experiences trying to cut straight tubing (primarily thin wall titanium) that turned out to be extremely difficult. Sometimes this would even result in damaging very expensive tubing that had to make its way into the trashcan.
This tool is designed to save time, money, and eliminate frustration.

A few key features of the straight tube cutting jig include:
- Safely hold multiple sizes of straight tubing (titanium, stainless, aluminum, Inconel, etc) to cut in multiple saw configurations (vertical or horizontal bandsaws).
- No need to tack weld pieces together to stabilize the tubing for a cut. You don't need to dangerously try to hold the tubing while it is clamped in the saw vice to prevent it from vibrating or springing out of the saw ruining the tubing and the saw blade.
- The way the cutting jig holds the tubing, you can now cut very short pieces you
previously had no way to hold in a saw. Simply place a short piece of the same size tubing on the opposite side you are cutting on and the jig clamps and holds the tubing the same way it would if it was a long piece of tubing. This saves SO much time, and prevents losing fingers!
- When dealing with precise fitment situations, use the face of the cutting jig to scribe the tubing 360 degree's around to make it perfectly square. Make your cut slightly further back than where it needs to be and use a belt sander to sand exactly to your scribe line. This is how the aerospace industry is able to hold such tight tolerances when fabricating tubing!
- Cut jig makes cutting all thin wall and thick wall material significantly easier, but
especially makes cutting titanium far easier than ever imagined.
- Switching tubing sizes requires no additional work which makes it easy to rapidly
switch between jobs. There are no tools required and no swapping components on the tooling.
- Be creative! If the tool can hold it, you can cut it! I have found myself in several
situations making cuts on things other than just straight tubing!
---
Share this Product